Our Ocean Diving is a diving center located on the island of Nosy Be.
Nosy Be (in Malagasy: "Nosy: island" and "Be: large") is a coastal island of Madagascar located in the Mozambique Channel, 8 km from the northwestern coast of Madagascar. It is the main tourist destination on the Red Island. Tropical beaches, crystal clear waters and seabed populated with corals, fish of a thousand colors, giant turtles, whale sharks, humpback whales in the sea, lemurs, chameleons and 12 thousand varieties of plants on land: nature is a wonder. Nosy Bè and its archipelago, which includes Fanihi, Komba, Mitsiou, Radama, Sakatia, Tanikely, Vorona and the famous Iranja, are a paradise of biodiversity.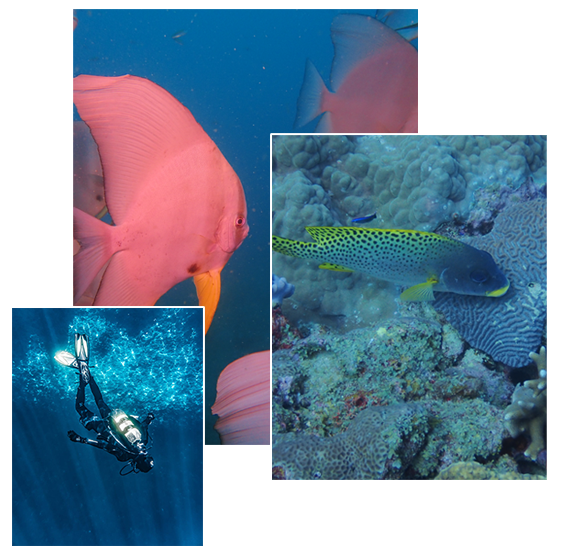 Climate
It is comfortable all year round, although in the austral summer (November-March) it is rather hot while from July to September the evenings are cool. A jacket, k-way, hat, sunglasses and protective creams are useful for boat trips and days on the beach.
For trips in rural areas and in the forest, it is better to wear long light trousers and comfortable shoes.
The Currency
The local currency is Aryari. € 1 is changed to around 3,900 – 4,000 Ar, in the bank and in hotels a little less ; however, the euro is also very popular. Credit cards are poorly accepted and often subject to bank fees. ATM machines are located in the capital Hell Ville and in the villages of Ambatolouka and Djamandjar.
Snorkeling
For non-divers who do not want to give up many underwater beauties, excursions to shallow diving spots where the sea water is transparent, colorful fish swim in the middle of the coral reef and giant green turtles can be admired.
Rainy season
Between January and March there may be mostly night showers, but also daytime, which make the sea unpleasant and land excursions at risk of rain and mud. For this reason many hotels and diving centers close to reopen the new season in April.
Dry season
Between April and September the sky is almost always clear and the sea no longer opaque as in the previous months, many fish can easily be admired, especially in the months of June and July, the best for visibility. Between August and October the extraordinary Humpback whales can be spotted, migrating from the waters of Antarctica to our warm waters to mate, give birth and nurse their offspring.
Wet season
Between October and December the sea begins to lose transparency for the abundant plankton that attracts the wonderful Whale Sharks, the largest fish in the world, which can be sighted and approached without danger even by the most inexperienced swimmers.